Smart City Enterprise Architecture
General Overview
---
The general overview of the Enterprise Architecture for Smart Cities includes strategic and operational components as follows: vision and strategy management, portfolio management, service design, implementation, and change management (See Fig. 1).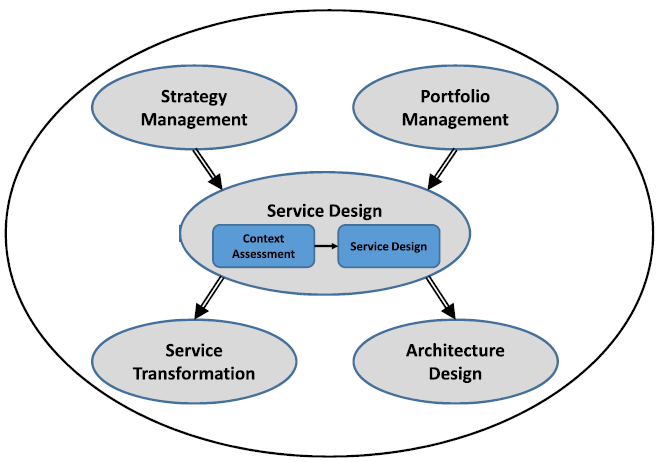 Smart City strategies are provided from the governments and city councils as an outcome of Strategy Management activities (left-top circle). The information are captured by the first activity at Service Design (middle circle). Likewise, to achieve connected system in Smart Cities some information are required to be imported into Service Design from city councils as the outcome of the Portfolio Management activities. Finally, the outcome of Service Design goes to the Architecture Design to complement the design of the services as well as to Service Transformation to manage future changes.
Smart City Framework for the Service Design
---
This framework aims to describe the structure of the major components of an Enterprise Architecture for the design of services in Smart Cities, as part of the Service Design activity of our general overview presented above. Fig 2 depicts the layered framework which includes the Context Layer, the Service Layer, the Information System Layer, and the Technology Layer.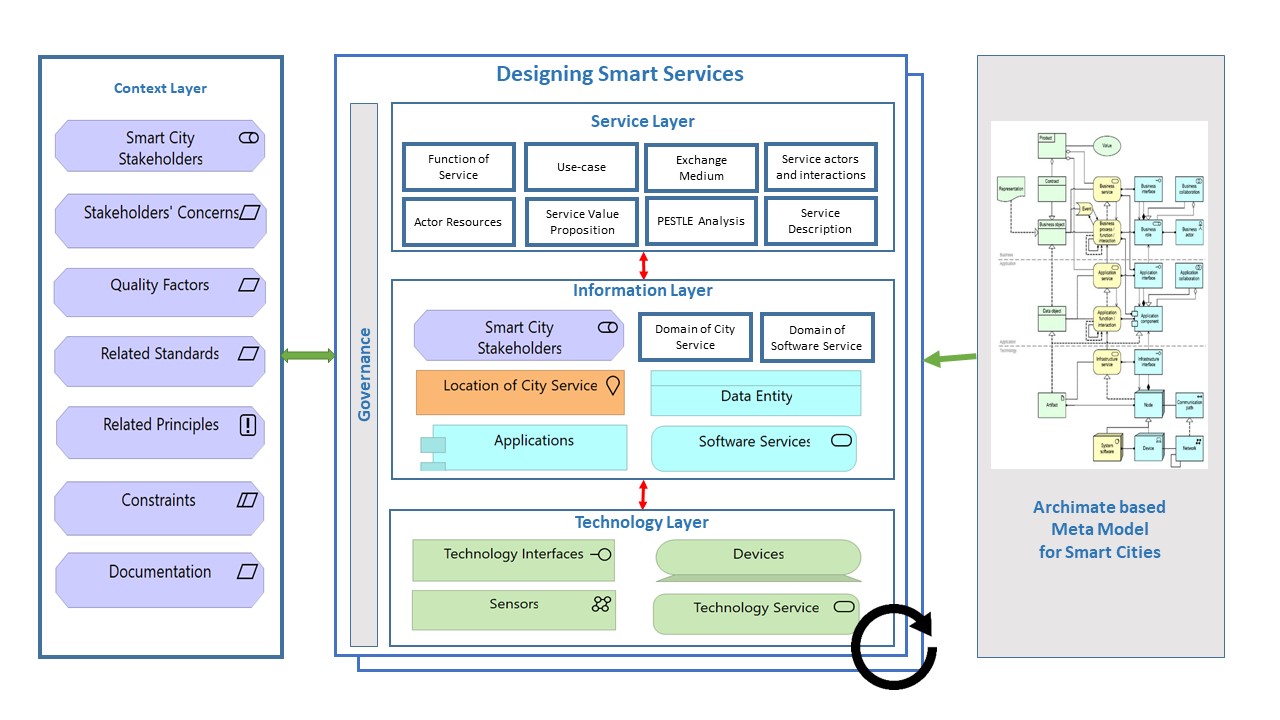 The Context Layer: To capture context information about strategies, priorities and critical aspects of smart cities (e.g. stakeholders and their concerns), required to deliver effective services to the citizens.
The Service Layer: To define appropriate goals, scope, etc. for the services with regard to the smart city
requirements, concerns, and priorities.
The Information Layer: To identify the data, data flows and the data interrelations required to support service function.
The Technology Layer: To support information function and the system/application function.
According the presented Enterprise Architecture framework, a Reference Methodology for Smart Cities to describe the process for developing and transforming public services is proposed, Read more.
Key Publications
- Pourzolfaghar, Z., Bastidas, V. and Helfert, M., 2019. Standardisation of enterprise architecture development for smart cities. Journal of the Knowledge Economy, pp.1-22.

- Helfert, M., Bastidas, V. and Pourzolfaghar, Z., 2018, May. Digital and Smart Services-The Application of Enterprise Architecture. In International Conference on Digital Transformation and Global Society (pp. 277-288). Springer, Cham.

- Pourzolfaghar, Z., Bastidas, V., Mamkaitis, A., and Helfert, M. (2018). Standardisation of Enterprise Architecture Development for Smart Cities. In proceeding of COLLA 2018: The Eighth International Conference on Advanced Collaborative Networks, Systems and Applications

- Bastidas, V., Bezbradica, M. and Helfert, M., 2017, June. Cities as enterprises: a comparison of smart city frameworks based on enterprise architecture requirements. In International Conference on Smart Cities (pp. 20-28). Springer, Cham.

- Pourzolfaghar, Z. and Helfert, M. (2017). Taxonomy of Smart Elements for Designing Effective Services. In proceeding of Twenty-third Americas Conference on Information Systems (AMCIS, 2017).

- Mamkaitis, A., Bezbradica, M. and Helfert, M., 2016, September. Urban enterprise: a review of smart city frameworks from an enterprise architecture perspective. In 2016 IEEE International Smart Cities Conference (ISC2) (pp. 1-5). IEEE.